Recent months have seen a flurry of consultations from European Bodies and national administrations. EUTC does not have the resources to respond to every potentially relevant consultation, so it focuses on those European ones with potentially the greatest impact on EUTC members, plus consultations by national administration either where requested by a member, or where the impact of a decision by one member state is likely to influence overall European thinking.
EUTC is seeking to build relationships within the European Commission, especially DG Energy, DG Connect and DG Grow which are seen as having the greatest relevance to EUTC, together with the European Parliament and Research Programmes. EUTC responses to consultations are contained on the EUTC website so that members and other interested parties can understand our perspectives.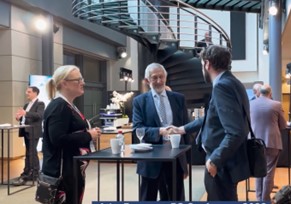 Perhaps the most important initiatives currently are those being undertaken by the Radio Spectrum Policy Group (RSPG) on the relevance of Spectrum Policy to reducing carbon emissions and sustainability, and the importance of radio spectrum policy in combating the effects of climate change; plus their focus on future telecoms technologies.
Another recent development is a review of the effectiveness of the 2012 Radio Spectrum Policy Programme (RSPP). Although many aspects of the policy programme have progressed, from a utility perspective, there has been little progress on the provisions in the original RSPP to address the spectrum needs of smart metering and smart grids, a situation EUTC is stiving to bring to the attention of European regulators and policy makers.